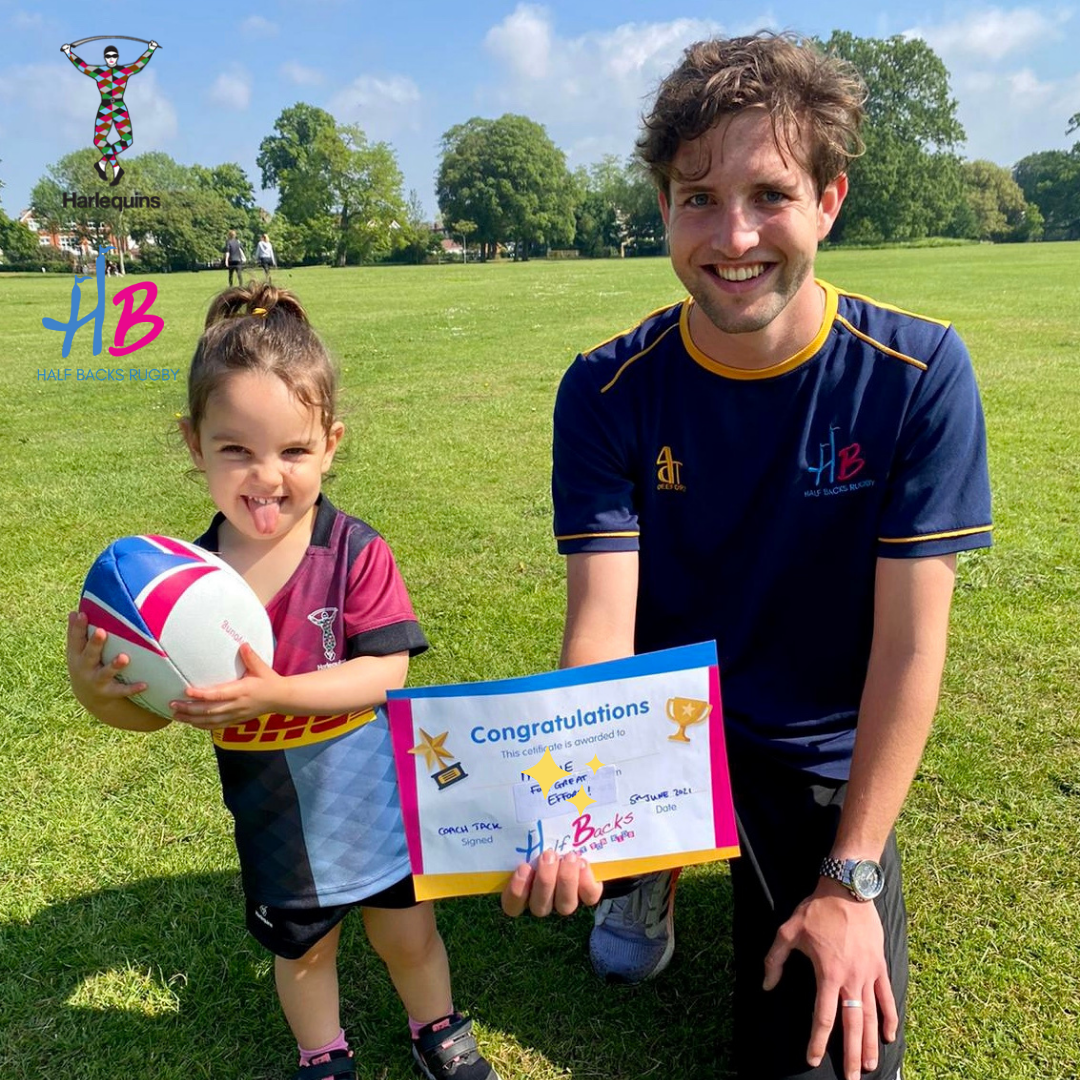 Press Release
Half Backs team up with Harlequin Amateurs for the 2022/2023 season.
We are excited to announce that Harlequin Amateurs have agreed a new partnership with Half Backs Rugby. Half Backs will be helping the local rugby club with their youngest age groups; Under 3s & Under 6s from September 2022. The rugby classes will be run on Sunday mornings at Harlequin Amateurs Rugby Club.
If you are interested in joining us from September, please join us for our OPEN DAY from 10am-12pm on Sunday 4th September (free to attend by booking here). If you sign up for our Autumn Term classes on this Open Day, you will receive a FREE* kids rugby ball from us! 
Nicole Kwee, Owner of Half Backs had this to say about the new partnership
"Our mission at Half Backs is to provide the local community with opportunities to get children active from a young age & promote the values of rugby. We are very pleased to partner up with Harlequin Amateurs who are at the centre of the local community. We look forward to helping them with specialised rugby classes for boys and girls from as young as 2 years old. We believe being active outdoors from a young age helps to develop healthier, happier children."
Jeremy Hall, Quins Ams Mini & Youth Chairman added "The club are really excited to be entering this partnership with Half Backs from September 2022 and delighted that this will allow us to complete the full spectrum of club coverage from Micros, to Minis, to Youth for both girls and boys. Since our move into Bushy Park and partnership with Hampton Wick Royal Cricket Club, Harlequin Amateurs has continued to go from strength to strength. Our club ethos is very closely aligned with Half Backs with a focus on inclusion and "developing great players who love rugby and this move further enforces our place in the local community"
Half Backs are a local company that provide specialist outdoor rugby classes for both girls and boys aged 2-6 years in Teddington, Twickenham, and St Margarets. Our classes aim to develop children's confidence, physical & social skills whilst having fun.
*While stocks last.